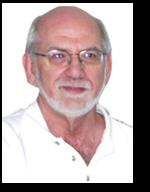 Richard Kuhns B.S.Ch.E. did not endeavor to become an expert on Morgellons. He was a well versed speaker and consultant in the area of stress management with clients such as AT&T and IFF (International Flavors and Fragrances) until...
In the mid 90's his life wasseverely interrupted from a cloud of dust as he pulled a vine from a pine tree in his back yard. Unknown to him, at the time, that cloud of dust contained mites, and other skin parasites that four days later produced relentless itching of his skin followed by skin rashes and lesions.
Thinking a trip to his physician would provide effective treatment, he was greatly disillusioned to find that was not the case. In fact a dozen physicians prescribed only short term relief, or suggested he was suffering from delusions of parasites.
Over time his condition worsened to the point that suicide was an option to escape the relentless torture of itching and biting sensations. Fortunately, at the suggestion of an acquaintance, he looked at a dietary connection and through trial and error discovered what foods activated the skin parasites and what foods didn't. He called it the King Diet™ and published it in the late 90's. It was instrumental for him in getting his life back and has been likewise instrumental for countless others in getting their lives back.
Since that time and through his personal research and communication with thousands of sufferers world wide, he has become the world's foremost expert on Morgellons and other skin parasites such as Collembola, skin fungus, mites, and Strongyloides stercoralis. He published his first book titled, Soothing the Itch Within and the Diet to Control it in 2006 and has since renamed, revised and updated the book eight times as How to Get Your Life Back from Morgellons and Other Skin Parasites.
To learn more about Morgellons listen to one of his radio interviews:
1.  How to Get your Life back from Morgellons at http://ehealthradio.podbean.com/e/how-to-get-your-life-back-from-morgellons-and-other-skin-parasites
2. The Ever Looming Danger of Morgellons at http://ehealthradio.podbean.com/e/the-ever-looming-danger-of-morgellons-disease
He is a well versed speaker in the areas of

►Morgellons and Other Skin Parasites
►A Practical Approach to Chronic Lyme Disease
►Stress Management
►Building Self Esteem
►Life Crisis
►Emotional Eating
►Overcoming Panic and Anxiety Attacks

For Richard's Author Press Kit, Click Here